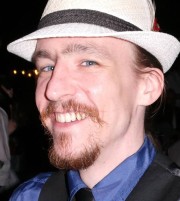 I'm an Associate Professor of Computer Science at Longwood University of Farmville, Virginia, having formerly taught in the Computer Science department at Knox College and (briefly) in the Math and Computer Science department at Monmouth College (of Illinois). In 2004 I got my PhD in Computer Science at Brown University, having also gotten an ScM (Master of Science) in CS there in 1999, and an AM (Master of Arts) in Linguistics in 2003. Earlier on, I got a BS in CS and a BS in math from Quincy University in May '97; prior to college I went to St. Viator (grad. '93), IMSA (left '92), St. James (grad. '89), and St. Linus (left '86).
Interests
My interests are many and varied. For a few that I have chosen to write about, see the links at the side of this page. Other things I'm into include politics, DIY home improvement, and reading science fiction/fantasy.
I've long been involved in theatre. I served for two years on the board of Prairie Players Civic Theatre in Galesburg and was involved backstage or onstage in several of their productions; since moving to Virginia I've gotten involved with Waterworks Players and have served on their board since 2012.
Related pages
This is really just my personal web page. To find out more about my teaching or research, see my Longwood webpage.
Contact info
My main email address for general correspondence is blahedo, right here at blahedo.org. Those of you who knew me from Brown may find it easier to remember my don_blaheta address, at alumni.brown.edu. I've kept a dblaheta address at knoxalumni.org. For professional correspondence you can use the ugly but rule-conforming blahetadp address at longwood.edu.
I never did get around to getting a landline phone while I lived in Galesburg, and now that "long distance" has become meaningless and "area codes" little more than the first three digits of a ten-digit phone number, I won't soon change my cell number, (309) 335-6004, and probably never will.
If you're sufficiently old-fashioned to enjoy entrusting a letter or postcard to the US Postal Service, it can be sent to me at
306 Garden St.
Farmville, VA 23901
Thanks for visiting!